JupiterOne Dashboard​
By default, the JupiterOne workspace landing page features an high-level breakdown of several data points relating to your environment. This provided view is the Dashboard Overview.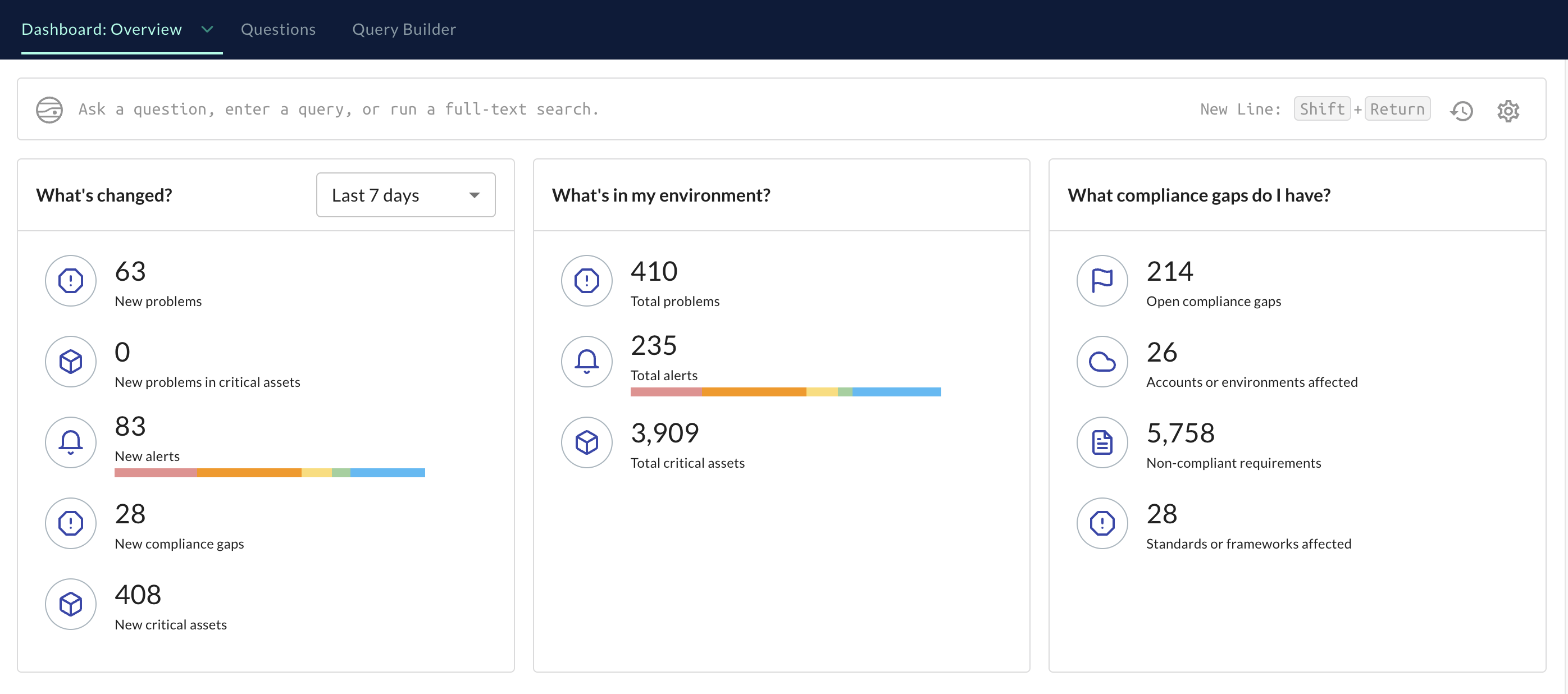 Dashboard Overview​
What's changed?: An overview breaking down the changes in your environment for a given time frame (last 7 days is the default). You can adjust the time frame from time of your last login up to 90 days.
What's in my environment?: An aggregate view of the problems, alerts, and critical assets within your JupiterOne workspace.
What compliance gaps for I have?: Showcases the running total of compliance gaps within your JupiterOne workspace.
note
Your initial overview page may or may not feature the sections above depending on your user access. For more information on access and user roles, see our documentation.
Custom landing pages​
Use Insights dashboards to power custom landing pages. By pinning an Insights dashboard to your Home view, that dashboard will persist as the default view whenever you navigate back to Home within JupiterOne.
You can save multiple dashboards to your home view, though only one can be displayed at a time. You can toggle through your pinned dashboards by selecting the Dashboard dropdown from the JupiterOne home.
JupiterOne Graph​
JupiterOne is built as a data-driven graph platform. The JupiterOne graph provides a deep, highly contextualized representation of your assets, their relationships, and metadata. By capturing this data in a graph, JupiterOne enables you to gain a much more accurate picture of your entire environment.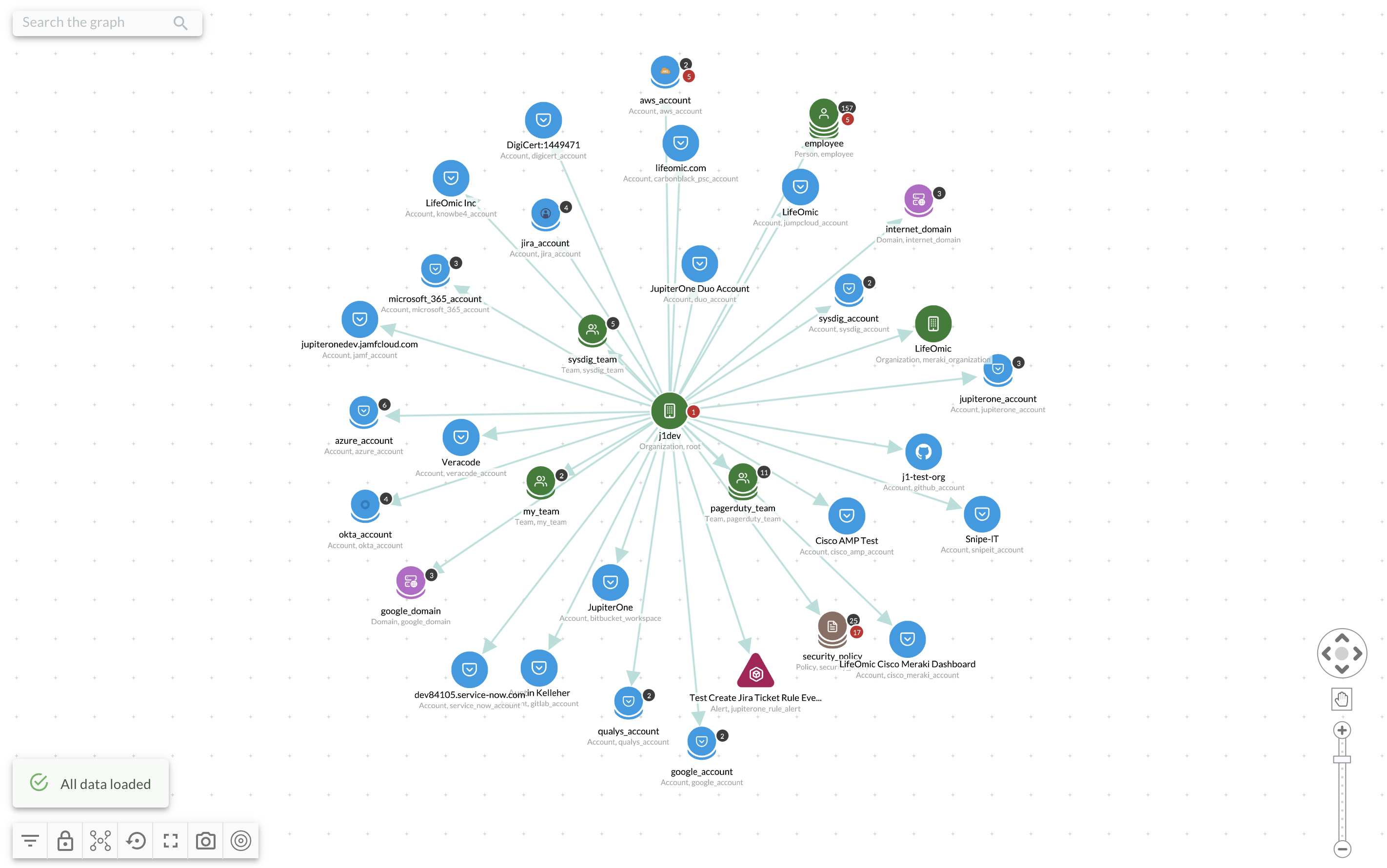 The graph allows for dialing in to particular assets to explore what and where a blast radius could pose a security threat.
Accessing the graph​
You can access the JupiterOne graph from the JupiterOne dashboard. Simply select the Graph tab.
Alternatively, when querying your data, you can also return data in graph form, enabling you to dive into your results in an interactive way.
Graph legend​
Below is an illustration showcasing the Graph objects and their meaning to assist in utilizing the tool.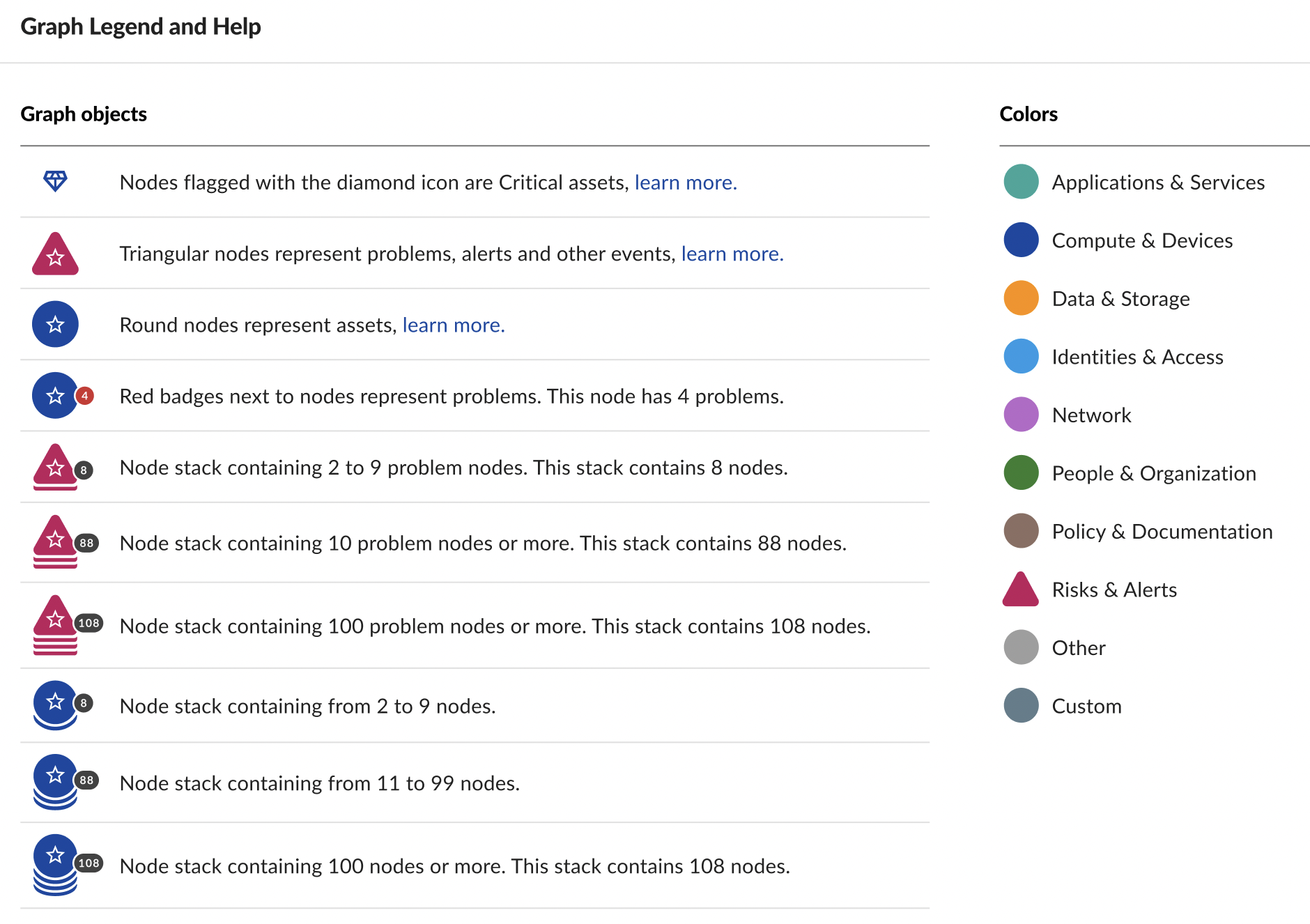 Up Next​
Now that you've explored the JupiterOne home view and graph, explore configuring your user settings, or if you're a workspace admin, configuring your workspace settings.